Is The Star creating a light rail plan?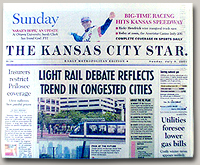 We've been hearing rumblings that The Kansas City Star is working on their own light rail route. That's all we know right now, so there's no telling what the route, technology, or funding will look like.
Why would The Star design and then support their own plan? The editorial board has supported light rail in the past. We haven't seen their plan and are not casting judgment, but too many plans muddy the waters for voters. If voters get confused, they'll get irritated and vote against any and all plans. There are already several proposed or being planned. If The Star's board does still support light rail in Kansas City, they'll need to be careful on how this is presented.
They'll also need to take care with their reporting, as they've said repeatedly that the editorial board does not decide content. It will also be interesting to see how they qualify themselves as a qualified route designer.